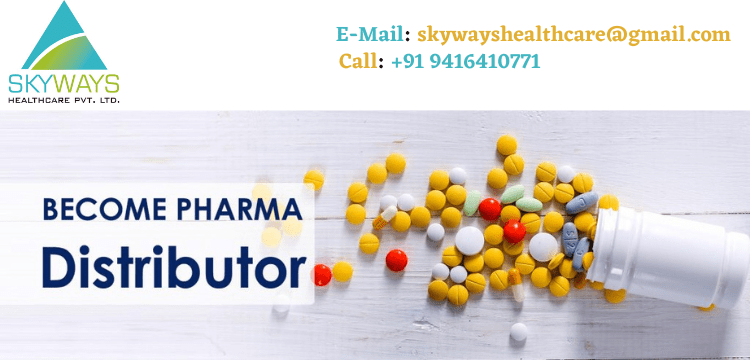 Here are the General Steps you can follow to start a PCD Pharma Franchise business:
1). Choose a Pharma Franchise Company
a. Research and shortlist reputed pharmaceutical companies that offer PCD franchise opportunities.
b. Evaluate the company's product range, quality, reputation, pricing, promotional support, and terms and conditions.
c. Contact the selected companies and discuss the terms of the franchise agreement.
2). Research and Planning:
a. Identify Your Market: Determine the potential market for pharmaceutical products in your target area. Consider factors such as population demographics, healthcare facilities, competition, and market demand for specific therapeutic segments.
b. Select Product Range: Choose the product range you want to focus on. Consider factors such as demand, competition, profitability, and your target customer base. It is advisable to select a broad range of products to cater to different medical specialties.
c. Choose a Pharmaceutical Company: Research and identify reputable pharmaceutical companies that offer PCD Pharma Franchise Business opportunities. Evaluate their product range, quality, brand reputation, market presence, pricing, and support provided to franchisees.
d. Business Plan: Develop a detailed business plan that outlines your goals, financial projections, marketing strategies, operational plans, and growth potential. This plan will serve as a roadmap for your PCD Pharma Franchise Business.
3). Legal and Regulatory Requirements:
a. Business Registration: Register your business entity as per the legal requirements of your city. Consult with a legal professional to determine the appropriate business structure, such as proprietorship, partnership, or private limited company.
b. Obtain Licenses and Permits: Acquire the necessary licenses and permits required to operate a pharmaceutical business. These may include drug licenses, wholesale licenses, Goods and Services Tax (GST) registration, Shop and Establishment Act registration, and any other local permits specific to your area.
c. Quality Certifications: Consider obtaining quality certifications such as Good Manufacturing Practices (GMP) and ISO certification. These certifications enhance the credibility and quality assurance of your products.
4). Finance and Infrastructure:
a. Determine Investment: Assess the capital required to start your PCD Pharma franchise business. This includes costs for infrastructure setup, office space, equipment, inventory, marketing, staffing, and working capital. Prepare a detailed financial plan and arrange the necessary funds through personal savings, loans, or partnerships.
b. Infrastructure Setup: Establish a suitable office or premises for your PCD Pharma franchise business. Ensure compliance with infrastructure standards, including cleanliness, security, and adequate storage conditions for PCD Pharma franchise Products. Consider factors such as temperature control, humidity, and security measures to maintain product integrity.
c. Technology and Software: Invest in appropriate software and technology solutions to manage inventory, sales, accounting, and customer relationship management (CRM). These systems help streamline operations and maintain accurate records.
5). Partnering with a Pharma Franchise Company:
a. Selection Process: Approach the shortlisted PCD Pharma franchise companies and express your interest in a PCD Pharma franchise partnership. Evaluate their product portfolio, pricing, promotional materials, distribution policies, marketing support, and reputation in the market.
b. Franchise Agreement: Once you finalize a PCD Pharma franchise company, negotiate the terms and conditions of the franchise agreement. Pay attention to aspects such as product pricing, payment terms, territorial rights, marketing support, promotional inputs, return policies, and exclusivity.
c. Documentation: Review the franchise agreement carefully and consult with a legal professional to ensure compliance and protect your interests. Sign the agreement only when you are fully satisfied with the terms and conditions.
6). Sales and Marketing:
a. Promotional Materials: Obtain promotional materials such as product brochures, visual aids, product samples, prescription pads, and other marketing collaterals from the PCD Pharma franchise company. Customize these materials with your branding and contact details.
b. Build a Sales Team: Recruit qualified and experienced medical representatives or sales representatives who will promote your PCD Pharma franchise products to doctors, hospitals, clinics, and pharmacies. Provide them with thorough product training and updates on new launches.
7). Marketing and Promotion:
Develop a comprehensive marketing and promotional strategy to create awareness and generate demand for your products.
Utilize various marketing channels such as medical representatives, online platforms, advertisements, and healthcare professionals' networks.
Provide marketing materials, product samples, and promotional gifts to healthcare professionals, chemists, and retailers.
8). Build a Network:
Establish a network of doctors, hospitals, clinics, and pharmacies to promote and distribute your products.
Train your sales representatives to effectively communicate product information and benefits to healthcare professionals.
Provide regular updates and training sessions to keep your network updated about new products and developments.
9). Maintain Quality and Compliance:
Adhere to good distribution practices (GDP) and maintain proper storage and transportation conditions for pharmaceutical products.
Ensure the authenticity, quality, and safety of the products you distribute.
Comply with all regulatory requirements, including maintaining proper records, licenses, and documentation.
10). Monitor Performance and Growth:
Regularly analyze sales data, market feedback, and customer satisfaction to assess your performance.
Continuously improve your operations, marketing strategies, and customer service.
Explore opportunities for expanding your product portfolio and geographical reach.
conclusion:
starting a PCD pharma franchise business requires careful planning, market understanding, and compliance with legal and regulatory requirements. It's important to choose a reputable pharmaceutical company and build strong relationships with healthcare professionals to succeed in this competitive industry.
Best products along with compositions- Skyways Healthcare
Here is the list of some Pharma products along with their compositions used for Best PCD Pharma Franchise Company in India.
Contact Us:
Contact us if you want to inquire about How to start a PCD Pharma Franchise Company in India As well as across PAN India or any other details about the company.
Company Name: SKYWAYS HEALTHCARE
Company Website: https://skywayshealthcare.com/
Company Email: skywayshealthcare@gmail.com
Company Phone: +91 94164 10771
Company Address: Khasra Number. 14//15/2, 14//15/3, (Nanhera Road), Kuldeep Nagar, Near Shri Hari Nath Mandir, Ambala Cantt – Pin code- 133 014, Haryana, India